Show All
New constellation of opposition leaders hopes to pressure the government, but it is far from certain they will succeed.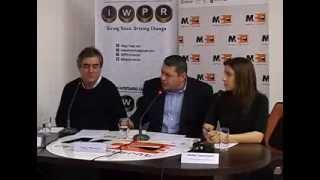 Speakers at IWPR debate discuss whether recent deterioration indicates worse is to come.
Georgian health minister David Sergeenko. (Photo: Georgian health ministry website)
Regulations aim to clamp down on illegal trade and stop people devising their own cures.
Radovan Karadzic, former Bosnian Serb political leader in the ICTY courtroom. (Photo: ICTY)
Although unproven, the agreement may be a mitigating factor if defendant is found guilty.
Banja Luka city centre. (Photo: Maja Bjelajac)
Both of Bosnia's administrative territories face the same problems of unemployment and corruption, but only the Federation has seen protests so far.
Prison visit time in Uzbekistan. (Photo: IWPR)
Authorities fail to treat or even isolate sufferers.
Islamic University in Dushanbe, the only educational institution where women can wear Muslim headscarfs during classes. (Photo: Humairo Bakhtiyor)
They say their taxes are now paying clerics yet they still aren't allowed to attend public prayer.
Ratko Mladic in the ICTY courtroom. (Photo: ICTY)
Defence case of former Bosnian Serb army chief is expected to begin in May.
Global Voices: Europe/Eurasia