Show All
Defendant had claimed the American embassy monitored confidential calls with lawyer.
Paramilitaries in Cossack hats in Simferopol, March 14, 2014. (Photo: Dan Kitwood/Getty Images)
Interview with human rights defender Dmitry Makarov.
Azerbaijani opposition leader Isa Gambar addressing protesters in central Kiev, December 2013. (Photo: Minval.az)
Sustained, regime-shaking demonstrations seem out of the question in Azerbaijan.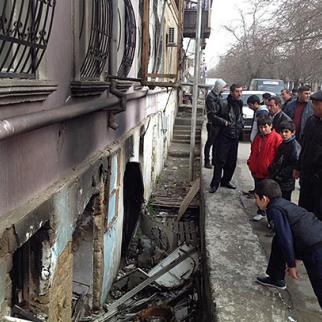 Onlookers examine the damage caused by a blast at the Azerbaijani Popular Front's headquarters in Baku. (Photo: Afgan Mukhtarli)
Popular Front party headquarters hit by "accidental" blast, followed by deliberate demolition on health and safety grounds.
Austrian police arrest businessman Dmitry Firtash.
Global Voices: Europe/Eurasia