Sakar Maan, one of the activists that lead the initiative, inside the Iraqi airforce plane holding some of the letters about to be dropped over Mosul. © IWPR
Training session in social media for imams in Kyzylorda, a city in south-central Kazakstan. © CABAR/IWPR
A woman wearing a face mask reads a newspaper in Havana, Cuba on July 29, 2020. © YAMIL LAGE/AFP via Getty Images
Rohingya refugees walk across Paddy fields at dusk after crossing the border from Myanmar on September 09, 2017 in Gundum, Bangladesh. © Dan Kitwood/Getty Images
Anti-government protesters in Kiev calling for ousting of President Viktor Yanukovych over corruption and an abandoned trade agreement with the European Union, February 2014. © Jeff J Mitchell/Getty Images
Malala Yousafzai gives a speech at an event at Barber Institute of Fine Art, November 2015 in Birmingham, England. © Richard Stonehouse/Getty Images
Stop FGM illustration. © Art-skvortsova
IWPR helped organise a mass airdrop of messages of solidarity from ordinary Iraqis to residents of Mosul suffering under Islamic State (IS) occupation.
We never heard of such thing during a war; usually airplanes drop bombs and [this] airplane is dropping love letters.
Giving Voice
IWPR is training a new generation of social media influencers across Central Asia to spread tolerance and counter violent extremism.
I was able to persuade families that it was a good thing to give their girls an education.
Giving Voice
IWPR's network of reporters in Cuba are defying one of the most repressive media environments in the world to expose mass government disinformation over the Covid-19 crisis.
These stories can be presented as the ultimate testimonies of the difficult times experienced by all Cubans.
Giving Voice
OUR MISSION
IWPR gives voice to people at the frontlines of conflict and transition to help them drive change.
Institute for War and Peace Reporting
Giving Voice, Driving Change
A handbook produced by IWPR's partners in Ukraine has become the go-to text for the country's main anti-corruption body.
I keep it on my desk as a challenge for myself and my colleagues
Driving Change
Nobel Prize laureate Malala Yousafzai began her campaigning work as a 12-year-old IWPR trainee in a Pakistani programme empowering young people through public debate and dialogue.
In IWPR's Open Minds, we students learned how to express ourselves and the problems of others through the media. We learned so much in the trainings.
Driving Change
The Georgian government criminalised female genital mutilation (FGM) following an IWPR investigation that revealed the practice was ongoing in the east of the country.
The Koran does not say that circumcision is a duty.
Driving Change
AFGHANISTAN
We at IWPR are deeply saddened and concerned by the situation in Afghanistan and our thoughts go out to all those affected. If you are a former employee or partner of IWPR in Afghanistan and need to contact us about your situation please use the address below.
اگر قبلا در افغانستان با ما کار کرده‌اید و نیاز به تماس با ما دارید، سریع ایمیل بزنید:
Hamid Karzai International Airport, Afghanistan, Aug. 21, 2021. © U.S. Air Force photo by Senior Airman Taylor Crul
Roza Eftekhari 1961-2021
IWPR mourns long-time friend and colleague who made a profound contribution to regional democracy.
Disinformation is a major global threat , especially in conflict and post-conflict areas. IWPR performs a vital mission, building up local voices as a bulwark against this challenge.
Democratic accountability comes from journalists investigating their own societies – IWPR provides a much needed platform and support for those reporting from some of the most dangerous and difficult places in the world.
IWPR fills a critical gap by helping local journalists to focus on human rights and justice issues. In the process, it contributes to democratic transitions, and demonstrates that the best war reporting is not about military conflict, but human consequences.
"The stakes could not be higher: for the individuals, for their communities, and for a world which against a deluge of lies above all needs honest information."
Anthony Borden
IWPR FOUNDER & EXECUTIVE DIRECTOR
In the News
Radio Free Europe/Radio Liberty
IWPR, ARTICLE 19, AMNESTY INTERNATIONAL
IWPR's journalism illustrated by stunning photography thanks to support from GettyImages.
Rohingya Muslim refugees wait to board boats over a creek after crossing the Myanmar Bangladesh border on September 07, 2017 in Whaikhyang, Bangladesh. © Dan Kitwood/Getty Images
Pigeons fly after being fed by Syrians in the courtyard of the Omayad mosque October 18, 2002 in Damascus, Syria. © Chris Hondros/Getty Images
Refugees wait near their shelters in the village of Tongo, in the hills outside Goma, on November 4, 2008 in North Kivu province, Democratic Republic of Congo. © Uriel Sinai/Getty Images
A young woman talks on her mobile phone as she walks past a mural depicting (L-R) Cuban Comunist Party founder Julio Antonio Mella and Cuban revolutionary leaders Camilo Cienfuegos and Che Guevara in the Habana Vieja neighborhood January 24, 2015 in Havana, Cuba. © Chip Somodevilla/Getty Images
Children sit chatting in a street ravaged by pro-regime forces air strikes, in the town of Ariha in the southern countryside of the Idlib province on April 11, 2020. © AAREF WATAD/AFP via Getty Images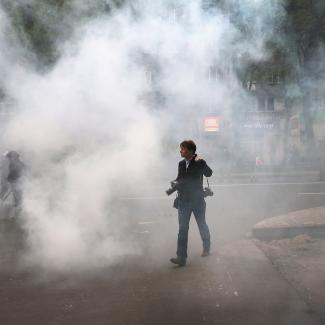 A journalist walks through smoke after violence broke out between pro-Russian activist and pro-government supporters during a rally and march on April 28, 2014 in Donetsk, Ukraine. © Scott Olson/Getty Images
Rohingya refugees walk across fields at dusk after crossing the border from Myanmar on September 09, 2017 in Gundum, Bangladesh. © Dan Kitwood/Getty Images
Displaced Syrian girls wear face masks decorated by artists during a COVID-19 awareness campaign at the Bardaqli camp in Syria's Idlib province, on April 20, 2020. © AAREF WATAD/AFP via Getty Images
A fire burns in a hardware store after a rocket attack caused the building to catch fire on October 3, 2020 in Stepanakert, Nagorno-Karabakh. © Brendan Hoffman/Getty Images
Paula Bronstein/Getty Images © Paula Bronstein/Getty Images